The founder of Laughing Hyena Records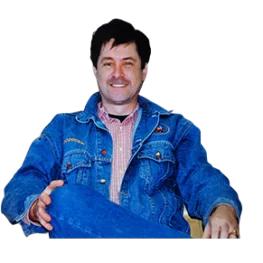 In 1971, Arnie Hoffman, with the 8-track tape revolution making recorded music portable, founded Hoffman Industries in Kansas City.
Hoffman was in business distributing music and selling comedy tapes for the majors to travel centers, record stores, and big box stores across the country with his fleet of trucks. Arnie wanted to be part of a new comedy business, so he sold Hoffman Industries and started recording comedians. He was one of two companies in the country doing that. Only Arnie's comedy label was allowed in the travel centers. Arnie found he had an ear for comedy. He could pick out upcoming comedians, and LHE would now concentrate on laughs. Travel centers and record stores were the primary outlets for Laughing Hyena products. What started as tapes became CDs, and now Laughing Hyena comedians can be found on the internet. Comedy fans across the country can be assured that they can still find the entertainment that they want to listen to.
Arnie Hoffman discovered Catch A Rising Star in New York City in the early '80s. Catch was one of the first Comedy Clubs in the country and was open until the wee hours. Catch was a reason itself to go to New York and Arnie did exactly that. He also enjoyed hanging out in Los Angeles and going to the Comedy Store.
When Arnie Hoffman saw Roseanne Barr doing her 10-minute novice routine at a comedy club in Los Angeles, within minutes, he knew she was going to be a hit. He walked out wanting a tape of the show. When he saw Rodney Dangerfield doing a lounge act in Las Vegas and thought, "Wow this guy is going to be great." Then he saw the newcomer Jeff Foxworthy, and Hoffman signed him. It launched new careers for Laughing Hyena Entertainment and Foxworthy.
He listened to the likes of Richard Belzer, Gilbert Gottfried, Jim Carey, Jay Leno, and David Letterman until the sun came up. At the time he was a distributor for the major labels, selling their cassettes from a coast-to-coast fleet of trucks. But Arnie wanted to be part of the comedy business, so he sold his old business and started recording comedians.
One of the first comedians he recorded was Jeff Foxworthy whose album became the best-selling comedy album in the history of the record business.
Because of Laughing Hyena's success, Hoffman is a prominent force in the world of entertainment. He was made a Grammy voter and a member of the highest order of The National Academy of Recording Arts & Sciences, Inc. (NARAS).
Laughing Hyena still records to this day. Listen to samples of a couple hundred of their best albums on YouTube at Laughing Hyena Records when you have time. It will brighten your day.
Laughing Hyena is an independent record label/brand licensing company. Founded by Arnie Hoffman, who has worked in the entertainment industry since 1971.
Before the Blue Collar Tour, before Jeff Foxworthy & Ron White were household names, Laughing Hyena recorded them, putting them in the public eye and on their way to fame.
No comedian has ever sold more albums than Foxworthy's 'Redneck Test' on Laughing Hyena Records, 4 million at last count.
People trust the label because they know it will deliver the entertainment they want to listen to. We have sold millions of albums over the last 40 years, still selling at the original outlet and travel centers. We've recently become a global brand being available for download at iTunes & other web-based sites.
Laughing Hyena is always searching for comedy talent to record and place alongside other stars like Jeff Foxworthy, Jay Hickman, Monique Marvez, Ron White, and Larry Pierce.